Three stars in Saarbrücken's culinary sky
A paradise for gourmets – and all those aspiring to be one!
Michelin stars do not fall from heaven. Each individual star symbolises great skill and particular creativity in addition to the utmost artistry of the gourmet chefs to whom they were awarded.
Visitors can experience at first hand the epitome of fine dining in the Saarland State capital on the Mainzer Straße: at the *** GästeHaus Klaus Erfort. Award-winning chef Erfort has achieved an impressive total of three of the coveted stars within less than three years with his talent and team.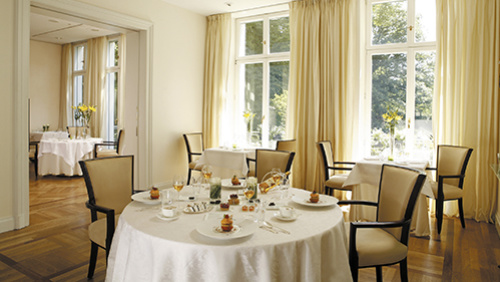 GästeHaus Klaus Erfort
One of Germany's best chefs resides in an elegant Wilhelminian-style villa with a spacious, well-tended private park: Klaus Erfort, who was awarded three stars by the Michelin Guide and 19.5 points by Gault Millau.
Mainzer Straße and its culinary highlights
Enjoyment at the highest level and lifestyle culture, as cultivated here, go hand in hand on one and the same street with a highly interesting culinary environment: small exotic restaurants directly opposite, the local hotel business, the neighbouring café bars, pubs and taverns. Saarbrücken in general and particularly its Mainzer Straße is therefore always worth a visit – in terms of fine food and when looking over the edge of the plate!
Haus Brück
Regional and international specialities in addition to expertise in fish & wine await guests. Superb inner courtyard!
Info:
Haus Brück, Mainzer Straße 6, 66111 Saarbrücken, telephone: +49 681 950 8800, www.haus-brueck.de
Domicil Leidinger
Boutique hotel in the 3 and 4-star class with excellent cooking - the top choice for fine Mediterranean cuisine.
Jens Jakob, once again awarded a star by the "Michelin Guide", cooks here in the "Jens Jakob - Das Restaurant".
Info:
Domicil Leidinger, Mainzer Straße 10, 66111 Saarbrücken, telephone: +49 681 9327-0, www.domicil-leidinger.de
Hotel & Café Kaiserhof
Ranging from breakfast fit for king to a stylish overnight stay: hospitality 24 hours a day.
Info:
Hotel & Café Kaiserhof, Mainzer Straße 78, 66121 Saarbrücken, telephone: +49 681 687 060, www.kaiserhof-saarbruecken.de
Krua Thai
A hint of exotic holidays with original Thai cuisine – all in the centre of town.
Info:
Krua Thai Saarbrücken, Mainzer Straße 71, 66121 Saarbrücken, telephone: +49 681 646 95, www.kruathai-sb.de
Viva Zapata
Tapas perfectly set in scene in a splendid atmosphere - including an unbeatable inner courtyard ambience in summer.
Info:
Viva Zapata, Mainzer Straße 8, 66111 Saarbrücken, telephone: +49 681 375 647